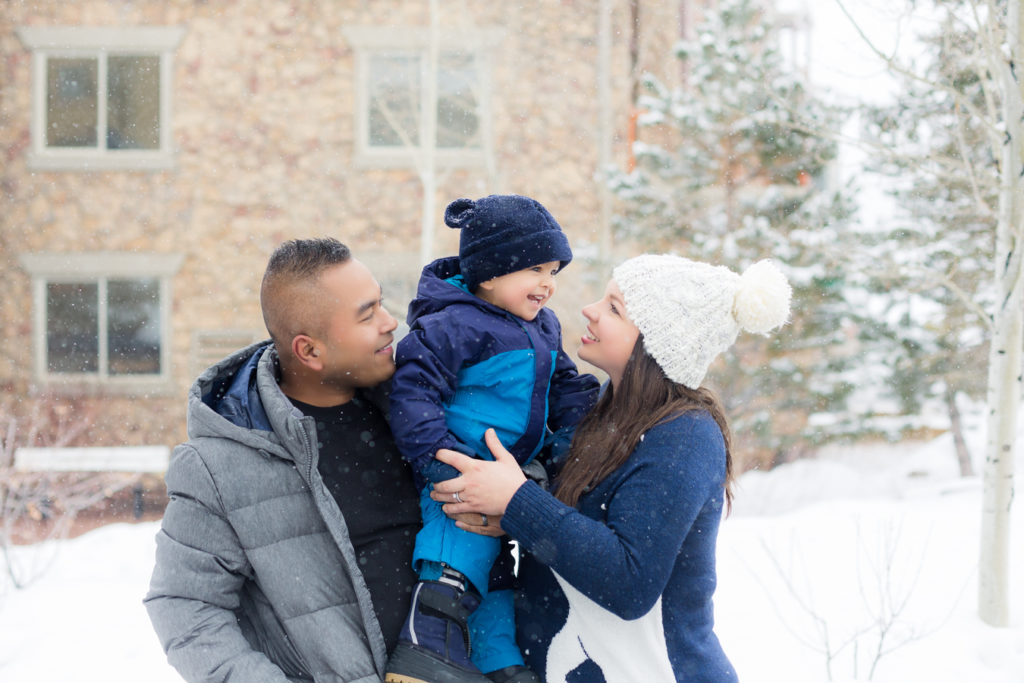 My friends invited me on a snowy ski trip to Park City, Utah. I've always wanted to see Salt Lake City, and I've never been on a snowy winter vacation so I said okay.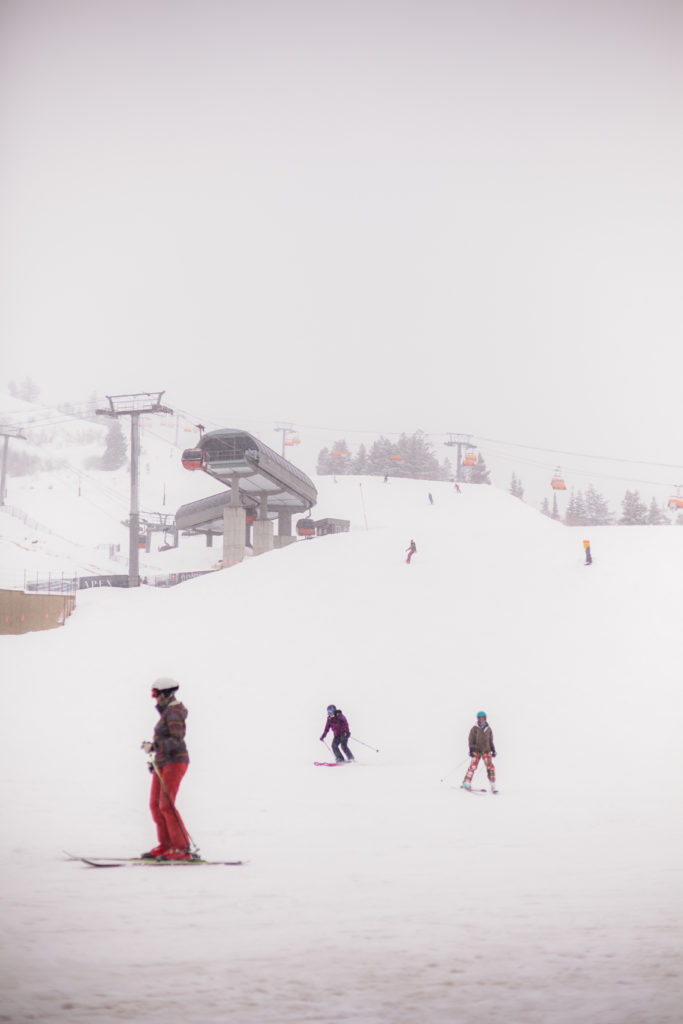 TLDR (Too Long Didn't Read- Quick Notes):
Best things to do with a Toddler
Heber Valley Railroad
Park City Sleigh Rides
Play in the snow at Hotel
Eat and walk around Main street (coffee at Atticus)
Windy Ridge Bakery and Bridge Cafe for Breakfast spots!
Swimming in heated pool!
NEXT TIME:
Ski Lessons
Gorgoza Park Tubing

As a mom and wedding photographer, I actually decided not to ski. I just really need my legs to work for upcoming Wedding Photography jobs. Haha! I'm a previous athlete but I'm kinda clumsy, so even more reason to sit it out this time!

Fly into Salt Lake City
We traveled to Salt Lake City from Houston on Southwest Airlines (our Fave airline). My 19 month old Leo sat on my lap with my mom and husband sitting in the row with me.

We rented a car at the Salt Lake City airport using our AAA discount on Hertz (and a free car seat with AAA membership). Renting an SUV worked well for us because we had more luggage than usual and my Mom was with us too!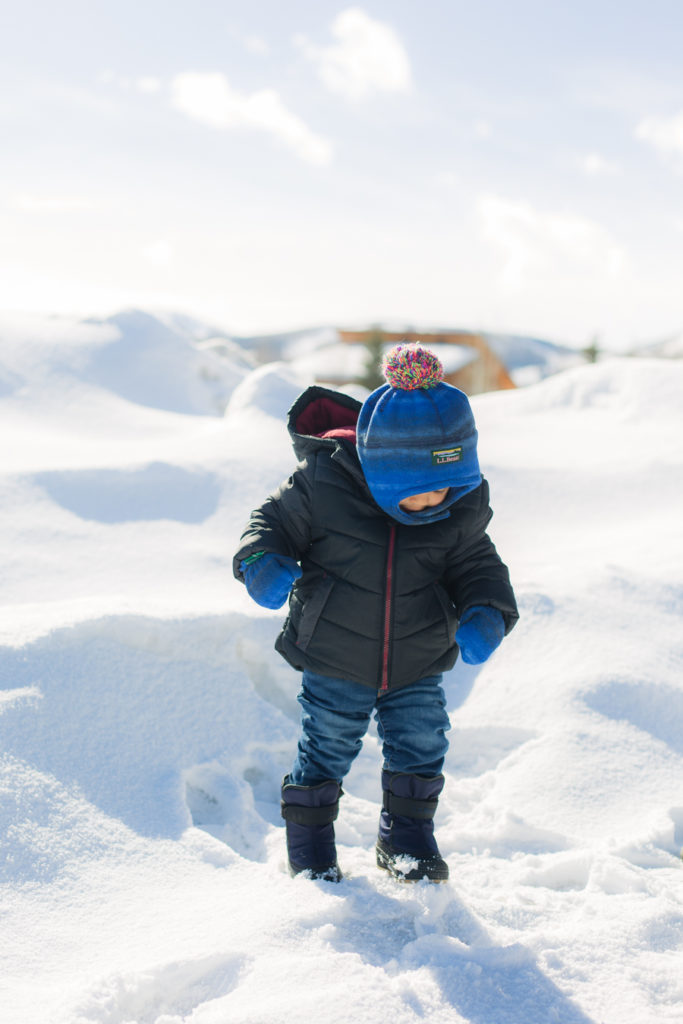 Drove 45 Minutes to Park City!
We drove 45 min to Park City, staying at the Sundial Lodge. Our room is a suite that had a kitchen and fireplace. The kitchen is so nice with a toddler. This place looks like it also has a lot of condos or vacation property. They are nearby some decent restaurants and ski lifts, but there's not big lobby to hang out in. I had a picture in my head before coming of a big lobby where I would sit by the fire and drink warm possibly alcholic beverages. There is a big open courtyard with firepits, etc that has some appeal. My husband ran to the nearby Walmart in the car and picked up snacks (fruit, etc) and water . We checked in and went to dinner at the Red Tail Cafe. The food in Park City is pretty expensive. At the red tail we had the beef short rib and salmon and were pretty pleased with that.
There's probably better food out there, but this was decent for being walking distance from the hotel.
We drove our Car into town during the Day.

We were exhausted from travel, but the next day we woke up refreshed to a beautiful winter wonderland outside. There's free public buses that run all over town but we drove our car as that was really easy for us to leave when it was way past nap time and not wait for the bus.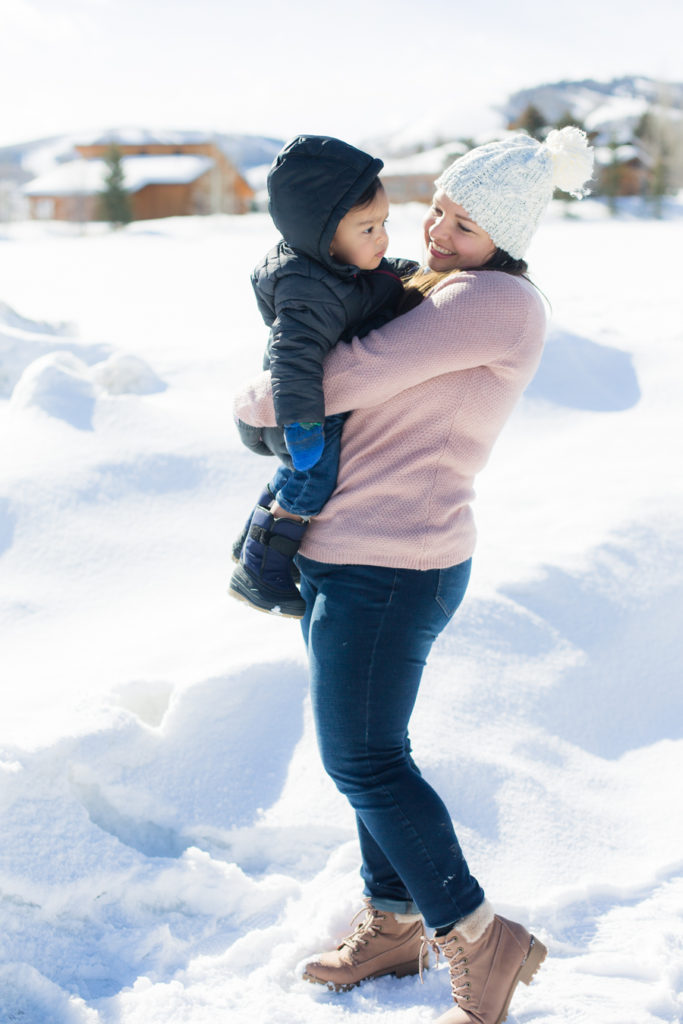 Luckily we had no issues finding parking etc. Everyone was out skiing during the day, so the town was pretty open. We ate some pastries at the Windy Ridge Bakery for breakfast – highly recommend. I recommend Windy Ridge for pastries and Atticus coffee on main Street for coffee! We love our lattes.
We returned and ate at the windy Ridge Cafe (next door to the bakery) for lunch which has a great salad, soups and sandwiches. Our favorite items were the simple salad called mixed greens, the red trout sandwich and the corn chowder. Main Street is so cute and fun.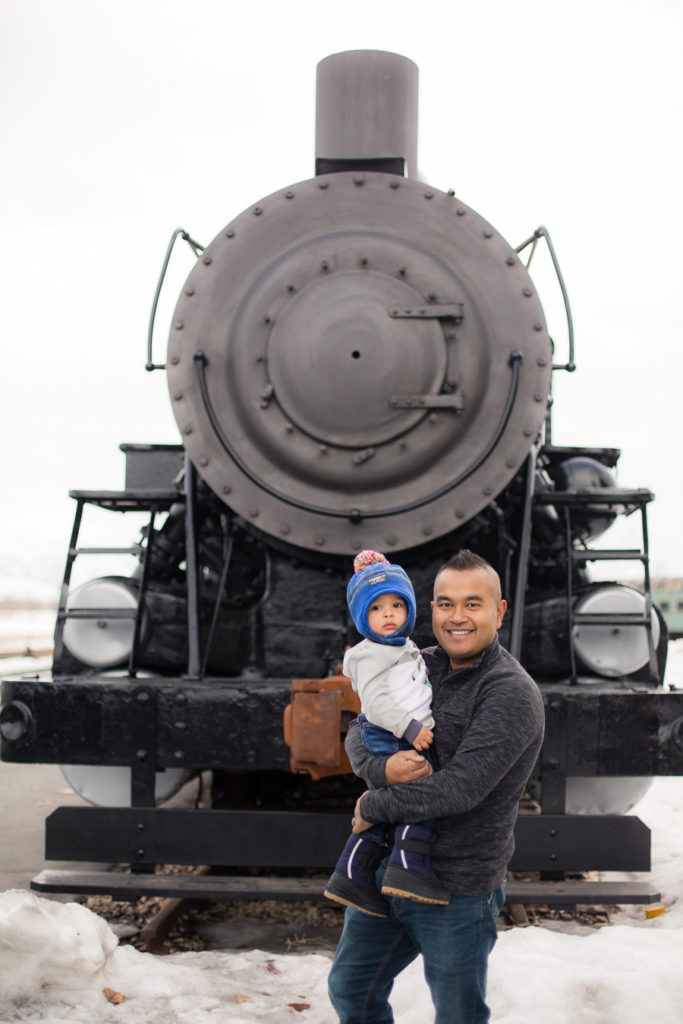 Best Train ride ever!

We came back to hotel to freshen up then left for our train ride on Heber Railroad. I wasn't sure if we even wanted to go on this train and ended up rushing to make it, and waking up my son way too soon from his nap. I knew Leo loved trains though. We boarded and it was hot with all the windows up and children crying. I was filled with regret trying to quickly take the Winter clothes off my son and myself. Once the train started, my son's eyes lit up pointing and saying choo choo.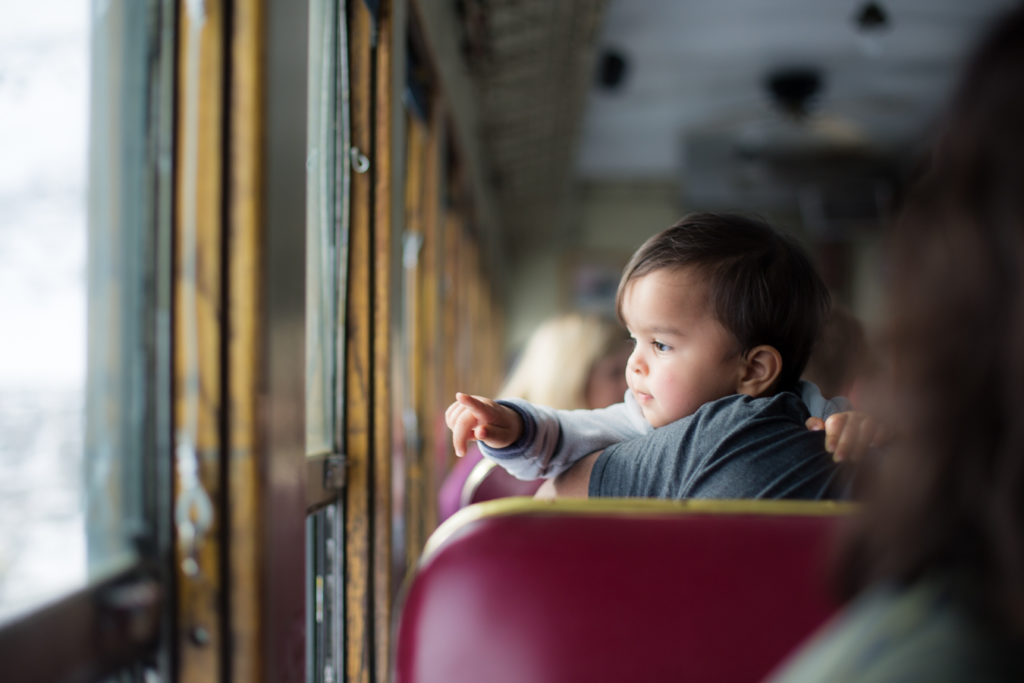 My husband figured out how to open the one hundred year old train windows and things were looking up. We loved the train horn sound, we saw cows and horses outside in the snow. Once we were further down the was a very kid friendly train robbery. I think the guys help keep the energy up when there might be a lull in the ride. We didn't have much of a lull though. We saw lots of wildlife on our 90 minute ride. We saw tons of deer. We also saw some less common wildlife of bald eagles and a coyote running across the Frozen Deer Valley reservoir. My son was able to see everything too.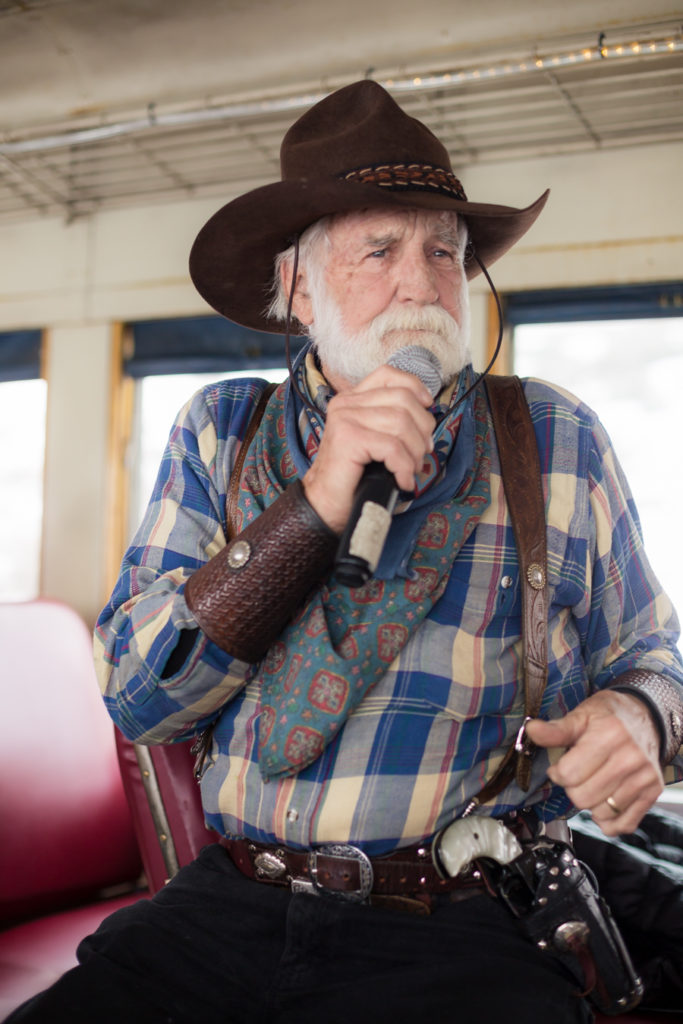 They have all the typical things too like snacks, restrooms and a gift shop. The train was a thirty minute ride from town Adults were $20 and my son was free. This was the highlight of our trip. If we didn't see all the wildlife, I don't know if it would have be as fun, but I think it would still be worth it. We went the first weekend of March.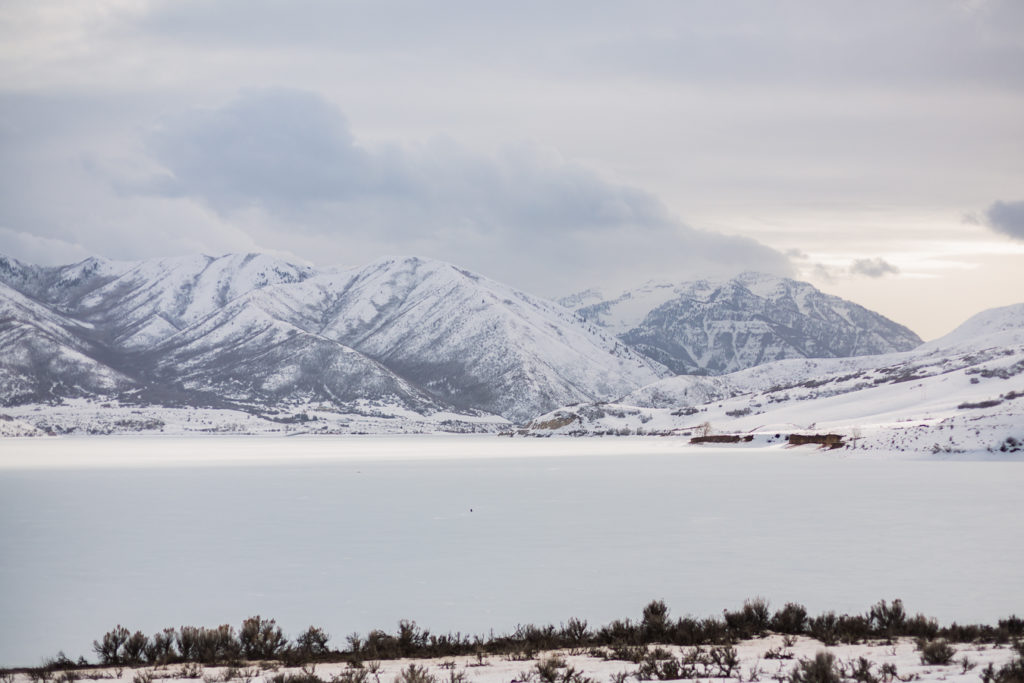 Toddler Tubing!

I really wanted to go to Gorgoza park for toddler tubing, but it is closed for renovations as it is becoming Woodward park. Maybe look into what this has to offer if you are traveling after fall 2019.
Winter Fireworks!

The next morning we went back to Main Street to eat a great breakfast at the Bridge Cafe and grill. Highly recommend. This is also a great spot to people watch skiiers coming down the slopes. We ordered a lot of different breakfast items and loved them all.

Our hotel offered fireworks on Friday night and my husband picked up delicious Thai food Togo from Thai ….

A lot of restaurants are really busy for dinner when all of the skiiers are back. Making a reservation might be helpful, but reservations intimidate me as I can never predict my toddlers nap times and sleeping times when traveling.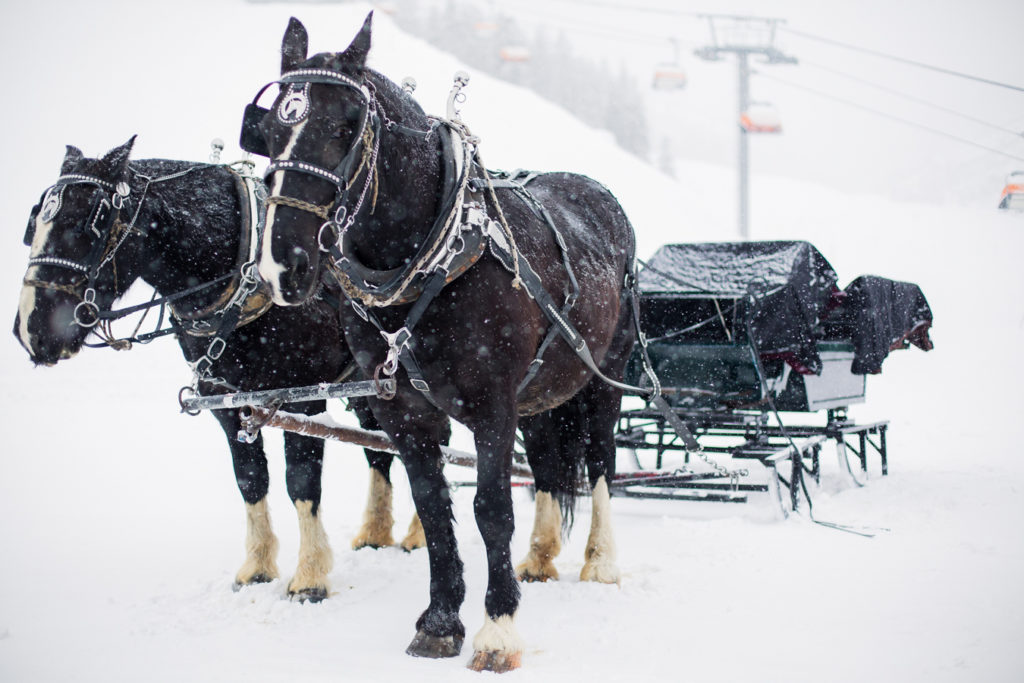 Horse-Drawn Sleigh Ride in the Snow!

We booked a horse drawn sleigh ride for Saturday night . We wore our warmest clothes for that. This was great timing as our son was just starting to get excited about horses. It was very chilly, so 30 minutes was the perfect amount of time.
Wish we could …
Dog Sledding!

Depending on your child's age, I think dog sledding at Luna Lobos or another highly rated place would be so fun. They are pricey and ask your weight, but I hope to do that some day. I think 19 months is still a little young for the dog sleds. They do offer kennel tours but book Luna Lobos early!! They book up!
More Drinking!

High line distillery- this is 21+ only but the food and drinks look awesome

Our Last Meal in Salt Lake City had famous Mexican Mole!
We ate at Red Iguana 2 in Salt Lake City on our way out for excellent Authentic Mexican Food and Mole sauce! It was my husband's favorite place we ate, and we never eat Meixcan food outside of Texas!
Here is my post on what to pack for you and your toddler on your ski trip!