Best Rides at Disney World's Magic Kingdom for a Toddler
Some people worry that there's nothing for their toddler to ride at Disney World, but you will probably struggle to do it all! I know I do! I recently went to Walt Disney World with my 2 year old toddler.
Magic Kingdom is definitely the park at Disney World with the most options for rides that toddlers can ride.
Here are all rides for a 2 year old at Magic Kingdom!
EXTRA TIPS BEFORE THE PARK!
Wakes up as early as your toddler will let you!
Don't waste time sitting down to breakfast, grab a snack (always coffee for me!), and head to parks – Crowds are lower the earlier you arrive – You can check crowd calendars on google or extra magic hours to find out what's expected on the day you are going (this is a little extra though)
Go through security and connect your fingerprint with your Magic band if this is your first time using them. Your toddler doesn't need a magic band if they are under 3.
You don't need to rush – The important thing is that you have fun and everyone does stuff she is excited about and maybe the other people get to do something they are excited about too.
Enjoy the excitement of Main Street, walk towards castle, Take pictures! If a cast member takes your picture, you can ask them to take one with your cell phone too! (Buying Disney photo pass before saves you money, but it is not cheap!) Last trip, I just bought a few pictures and that was cheaper, because I know I won't like how I look in all of them. I also brought my camera last trip.
Head to the rides! I usually like to go in a circle, heading Left into Adventureland (Walking straight to Fantasyland is another great option!), Fantasyland will have the most rides, but to get there you walk on the walkway to the left of the castle to go to Fantasyland behind the castle.
Best Magic Kingdom rides for a Toddler!
FANTASYLAND RIDES
Park your stroller and walk around Fantasyland
*Disney's Carousel: Great Toddler ride with short line!
*It's a Small World: Great Toddler Ride with Short line!
PeterPan: If you want to ride this, get a fastpass (maybe just for one person to go with your toddler), this is short ride, but it always has a long line.
Mickey's Philharmagic: A cute 3D show of all Disney's top animated films. It is pretty loud. Leo didn't like it. Not scary, just loud and 3D.
Grab your stroller and move it in the direction y'all are going (keep this pattern as you go)
Seven Dwarfs Mine Train: Fast Pass for 2 Show them your toddler at Front Entrance and get Rider swap for any extra people (Family waiting go ride Fantasyland Rides with toddler and then ride this after)
Meet Princess: If this is something your toddler is interested in, grab a Fastpass for one or several people.
The Many Adventures of Winnie the Pooh: Good if you like Winnie the Pooh
*Mad Tea Party: Young kids like this. You spin around in a teacup. You can spin pretty slow or make it go faster.
From Mad Tea Party, you can go towards more of Fantasyland, over by Dumbo, or you can go towards Tomorrowland (Leo loves driving the car with my husband on the Speedway – with FastPass)
Tomorrowland's Speedway – must be 32 inches (one of the shorter height restrictions)
Other Fantasyland Area:
Dumbo: Kid friendly, but heights! My son loves this one and the Dumbo animated movie.
The Barnstormer: A roller Coaster for toddlers – Leo might ride this next trip when he is 2.5.
Tomorrowland Toddler Rides
LUNCH BREAK at Cosmic Ray's? Might be able to order food through My Disney Experience App – It's hard to find great food at Magic Kingdom.
Everyone walk to Space Mountain (indoor roller coaster): Show them toddler for Rider Swap- First people ride with their fast pass (Other family use rider swap later – while waiting Toddler can ride Transit Authority or Carousel of Progress)
Disney's Carousel of Progress: An Animatronic show about technology and progress
Transit Authority People Mover: An Easy train ride around tomorrowland.
Buzz Lightyear's Space Ranger Spin: Everyone ride with FastPass!
Stitch's Great Escape: Scary ride about Alien Escaping and attacking everyone – Adults that like to be scared. A Pass from me.
Monsters Inc Laugh Floor: I like this one. Jokes might be over toddler's Head but this is fun for everyone if line not too long.
Back to hotel for break and nap? Or power on? You can always come back to the same park even without a Hopper – I recommend going back to hotel to rest and coming back to park for Fireworks! I don't buy Hopper park passes when I am going with a toddler. Make sure to check out the parade schedule, especially for daytime parades. Those can be great for toddlers to see characters and singing and dancing!
Adventureland Toddler Rides
Jungle Cruise: A great ride to ride as a group. This is a good ride to have fastpasses for. This is a fun boat ride where there is funny banter from your driver and you see Jungle animatronic animals. (not too scary)
Aladdin's Carpets: Similiar to Dumbo, have heights flying on a magic carpet
Tiki Room: I like this one, a longer show, maybe 20 minutes, short wait, has bird's singing – not a must do, but a good one to get out of crowds or weather.
Pirates of the Caribbean: This is an easy ride with usually a short line, but I worry it can be a little scary with canons going off, but it wouldn't scar anyone for life. Lots of singing "yo ho, yo ho, a pirates life for me!"
Swiss Family Treehouse: unnecessary walking up stairs through a tree museum
Frontierland Toddler Rides
Splash Mountain: Great Fastpass Rider Swap Ride
Walt Disney Railroad that goes around park: Closed currently
Tom Sawyer's Island: Pass – Uses a lot of time
Big Thunder Mountain Railroad: Fastpass– Before riding show them toddler and get Rider swap for other family
Country Bear Jamboree: Toddlers might like this country bear display of singing – The songs kind of drive me crazy, but those are the best for toddlers.
Liberty Square Toddler Rides
Hall of Presidents: Great for a nap
Haunted Mansion: Similar to Pirates in terms of an easy ride with singing, but possibly a little scary for a toddler with ghosts and darkness. You would probably want a Fastpass
People recommend the Food at Columbia Harbour House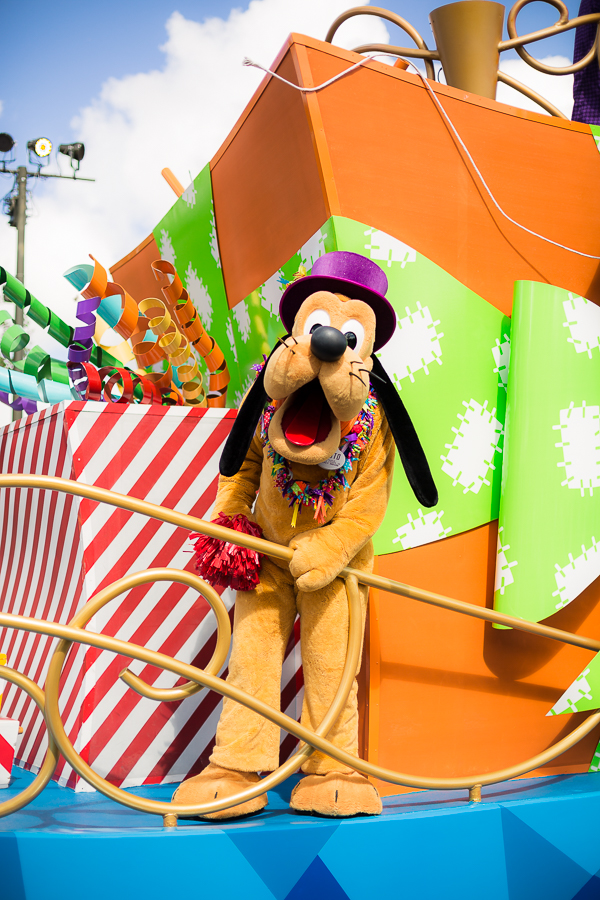 Maybe catch a parade too! There is more space on Main street during the daytime parades, and Leo loved that!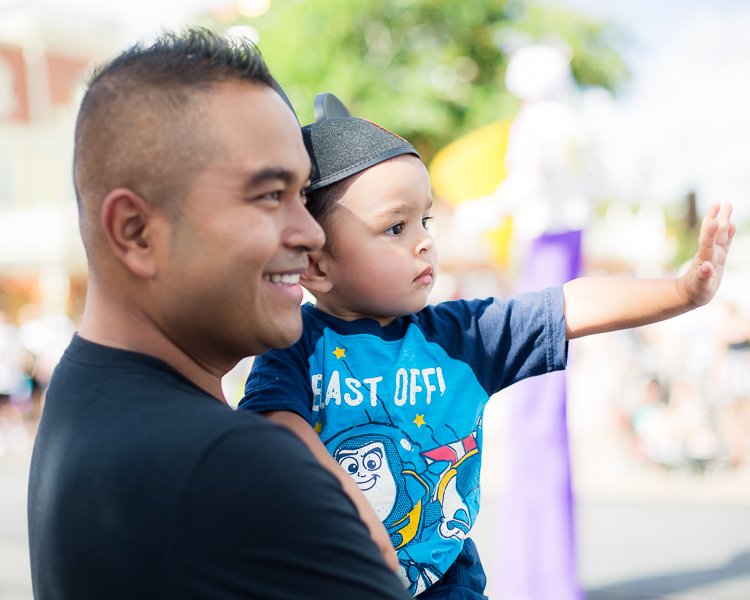 Fireworks shows and Parades are also great entertainment. People often wait for hours to get the best spot. That is not worth it to me with a toddler, but you can put them on your shoulders for a better view for them!
My Favorite Sit Down Dining Food Options at Magic Kingdom:
Note: Sit down restaurants are so expensive, and we are often spending at least $100 for the 3 adults and one toddler at a sit down restaurant
Skipper Canteen (Adventureland): Not typical American Food- Asian and Fish Options
Diamond Horseshoe ( Liberty Square) : Comes with a show!
Tony's Town Square (Near Entrance to Park): Italian
Be Our Guest: (Fantasyland) Even more expensive ( not as expensive as Cinderella's Royal Table though)
Casey's Corner (Main Street) : Highly rated fast food- Specialty Hot dogs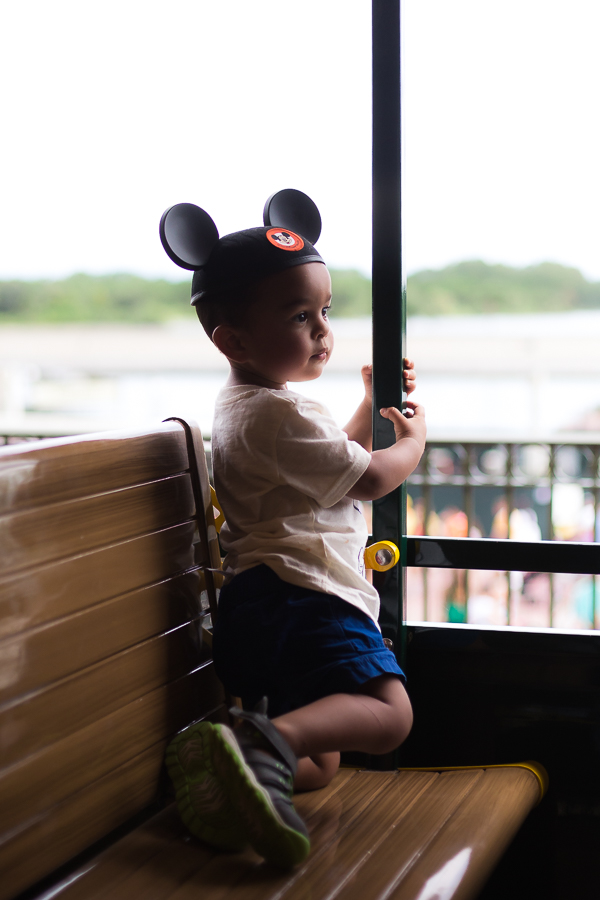 *The railroad!- No, not big thunder, but the railroad around the park is so fun and can help you avoid extra walking. NOTE: The train was currently closed for refurbishment at the end of 2019 and they said it could be 1-2 years before it is back and running, but it is available for photos.