My son turned 3 years old on Sunday.  We are in Houston where the COVID-19 numbers are rising quickly. I was going to cancel this Birthday party completely, but we decided to have a party with 10 people, just my son's Grandparents and his best friend, his cousin.  These are all people we see every few days anyways, within our confinement bubble.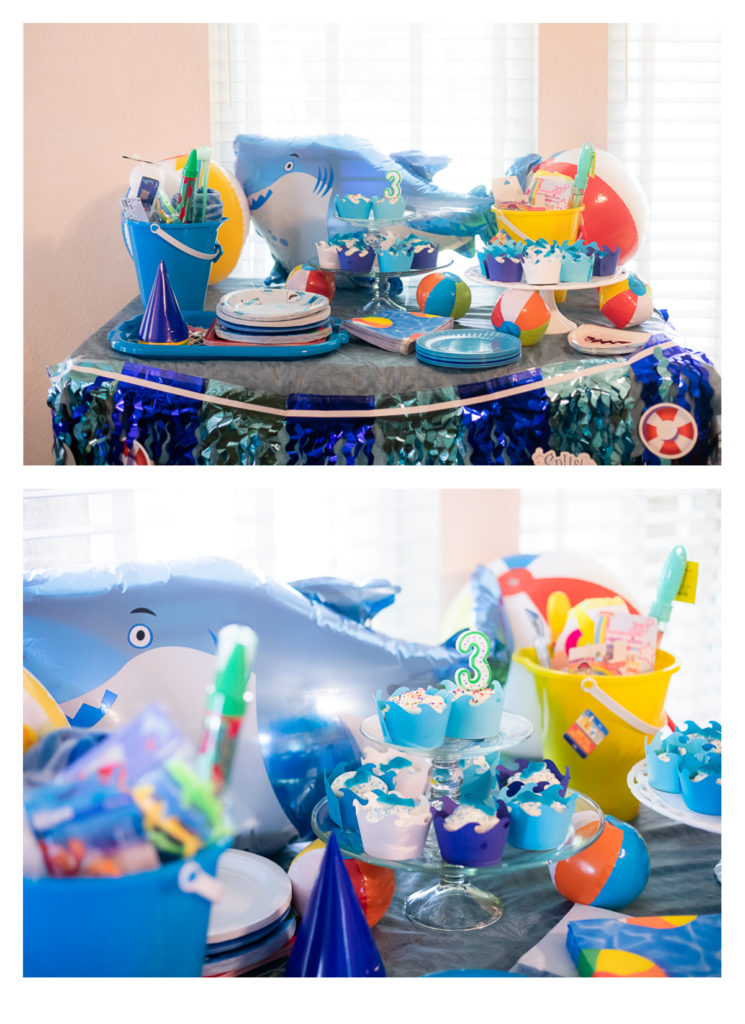 How to have a Confinement Splish Splash Shark Birthday Party
Backyard Bash
We had the party in my parent's backyard outside in the hot hot sun to kill all that 'Rona, so we didn't go to a public place or have any vendors. The cake and balloon arch were all homemade. There was plenty of space to socially distance!
Inflatables
Since there were only 2 kids, we could really focus on what they liked. We had two inflatable pools, a slip n slide, and inflatable shark, an inflatable unicorn, and few other cheap items like beach balls!
Balloon Arch
I am the Queen of Pinterest fails, but I googled how to make a balloon arch and I made this one with some fishing line and a needle, and it worked out great. I used this electric balloon inflator and that helped a lot too! I bought a balloon tie tool, but I didn't end up using it much.  Here's the video I watched that made me think I could do it!
Shark Cupcakes
We were looking for easy wins, and these shark cupcakes were perfect.  The Shark Gummies were from target and my Mom made the vanilla cupcakes with some blue sprinkles (sanding sugar?). She also ordered the wave cupcake wrappers that looked great too. Here's my Pinterest Splish Splash Board of Inspiration.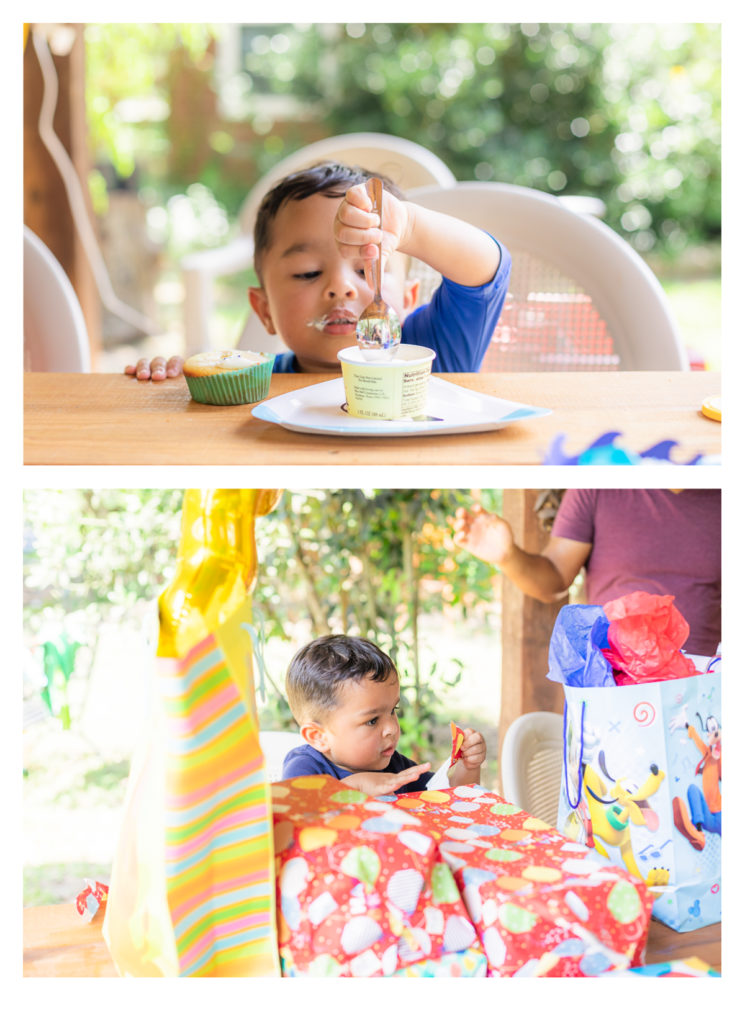 Music
We had a fun backyard bash mix, but a water themed songs mix could work too, such as Little Mermaid Songs, etc. I just have a Spotify playlist with a Harmon Kardon speaker. If that speaker is out of budget, we use the Slam Jam too at my parents' house!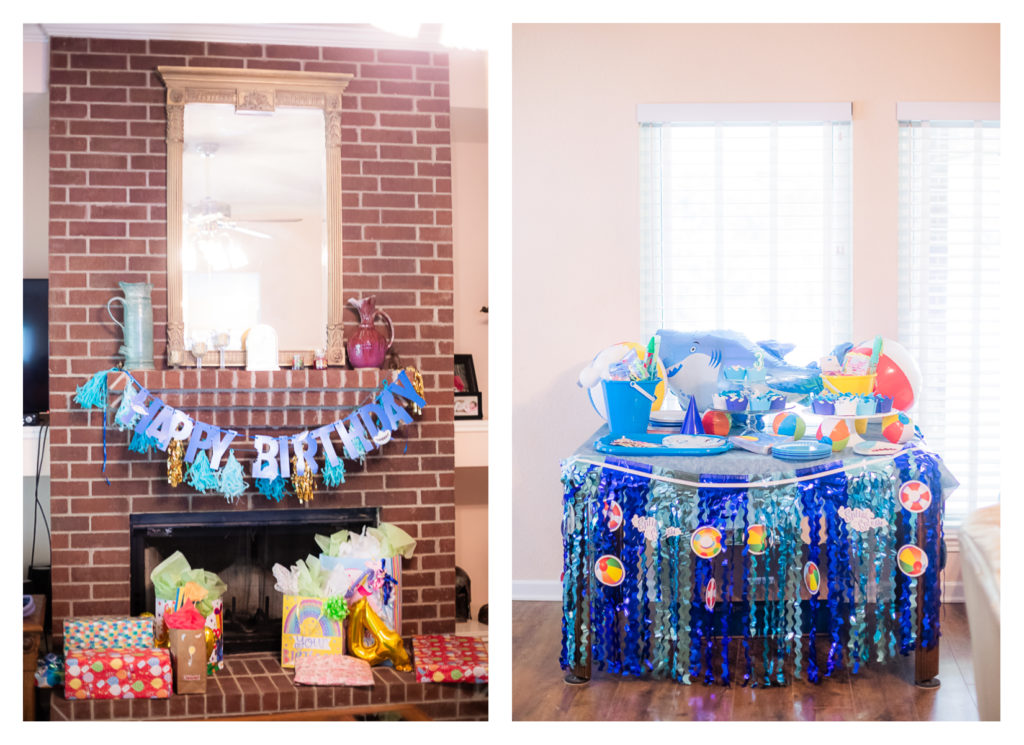 Bubble Machine
I set-up our bubble machine as well. This machine makes LOTS of bubbles but make sure to buy a big container of bubbles to refill it often. All the bubbles flying around makes for a fun party especially with the music!
Favors
I made each kid a beach bucket with beach towel and some little toys I knew they would like. The dollar store and target worked great for finding items for this bucket!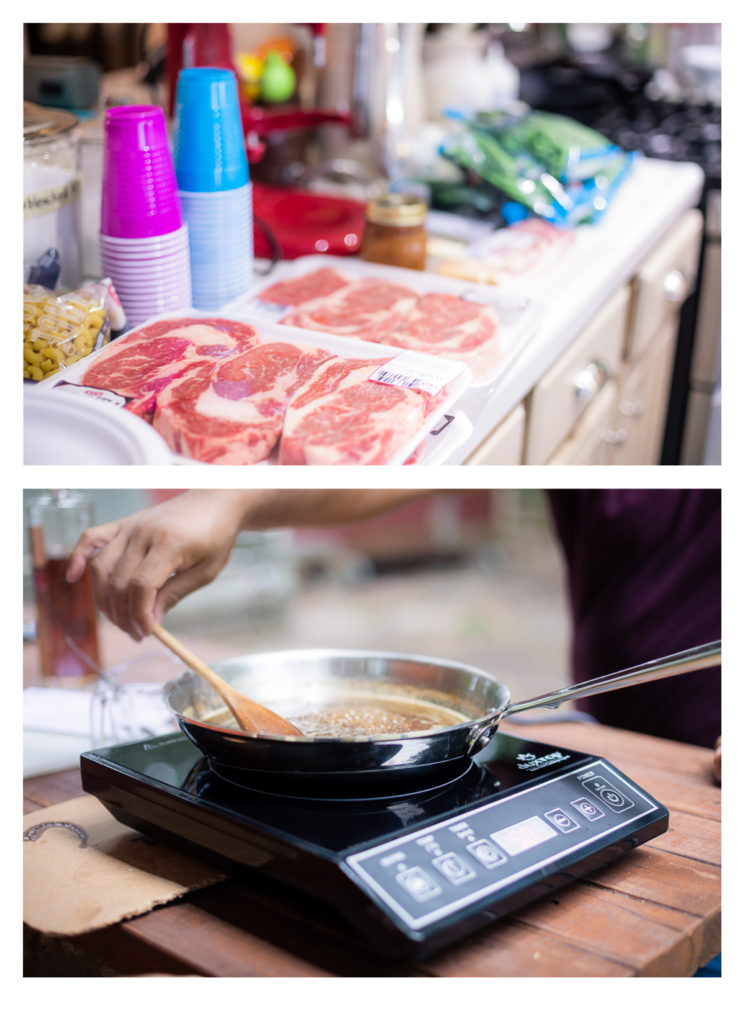 Elevate the Menu
My plan was to serve Burgers at the party, but since there was a limited guest list my parents opted for a nicer meal of Ribeye steaks with peppercorn sauce along with Jalapeno Poppers as an Appetizer. This was delicious and a nicer option you have when there are fewer guests!