Note: We just got back from a 9-night stay at the Grand Hyatt Kauai. We had such a blast, and we could never have afforded staying here without using Credit Card points. Our Globalist status allowed us free breakfast, snacks, and enough food in the evenings for dinner at the Grand Club, as well as free Valet Parking, an upgraded room, and lots of gifts in the room.
Introduction
We just returned home from an incredible 9 Night trip to the Grand Hyatt Kauai where we stayed completely on Credit Card Points. We were booked two rooms for 25,000-30,000 points per night spending 245,000 points on 9 nights for 2 rooms at the hotel (490,000 points total- AHH).  We were also celebrating our 10 Year Wedding Anniversary with 2 kids and my Mom. This is what 10 years looks like for us, and we are loving it! We used a lot of points on this trip, but this hotel would have cost over $11,000 for one of our rooms here.  Both of our rooms would have been $23,000, and you add flight savings and we saved $25,000 on this trip! Because of my Globalist status with Hyatt (that I've learned about from this points & miles hobby), we are treated like VIPS receiving gifts at check in and in our room (3 bottles of wine, chocolates, macadamia nuts, candy corn, chips, granola bars, stuffed animals- so much!)
Planning a family vacation to Hawaii can be a dream come true, but it often comes with a hefty price tag. However, with the right strategy and the use of credit card points, a luxurious stay at the Grand Hyatt Kauai can be within reach for families on a budget. In this review, we'll explore the top reasons why the Grand Hyatt Kauai is the perfect destination for a family vacation, how to book your stay using credit card points, and what to expect during your visit.
Why Choose the Grand Hyatt Kauai for a Family Vacation?
The Grand Hyatt Kauai is a stunning resort located on the beautiful island of Kauai. With its lush tropical gardens, breathtaking ocean views, and a wide range of family-friendly amenities, it offers an unforgettable experience for families seeking a luxurious and relaxing vacation. Here are some of the top reasons why the Grand Hyatt Kauai is the perfect choice for a family getaway: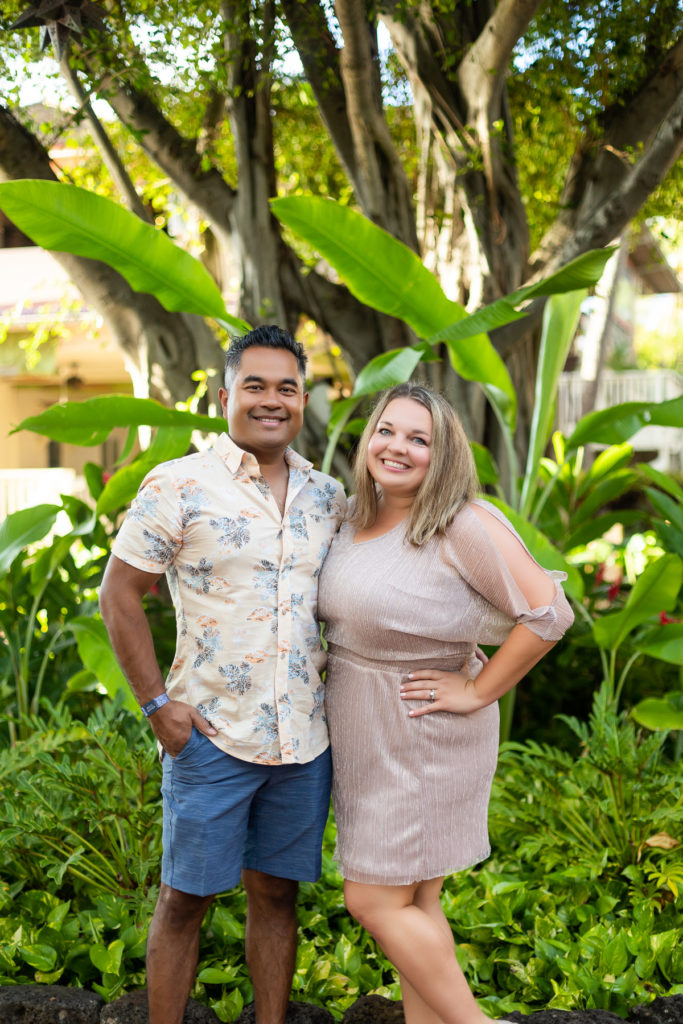 1. Family-Friendly Amenities
One of the standout features of the Grand Hyatt Kauai is its impressive range of family-friendly amenities. The resort boasts a multi-level pool area, complete with a slide, lazy river, waterfalls, and three jacuzzis. There's also an adults-only pool for those seeking a more serene atmosphere. The resort's saltwater lagoon is perfect for younger kids to splash around in, while older children can enjoy activities like hula lessons and lei making. The Grand Hyatt Kauai even offers complimentary laundry facilities, making it even more convenient for families on an extended vacation.
2. Beautiful Beaches and Outdoor Activities
While the beach at the Grand Hyatt Kauai may not be swimmable due to its rocky nature and strong waves, the resort's location provides easy access to beautiful nearby beaches like Poipu Beach. These beaches offer safe swimming and snorkeling opportunities, as well as a chance to soak up the sun and build sandcastles with the family. Additionally, the resort is surrounded by stunning natural landscapes, such as the famous Waimea Canyon and the picturesque Hanalei Bay, perfect for exploring and taking in the island's natural beauty.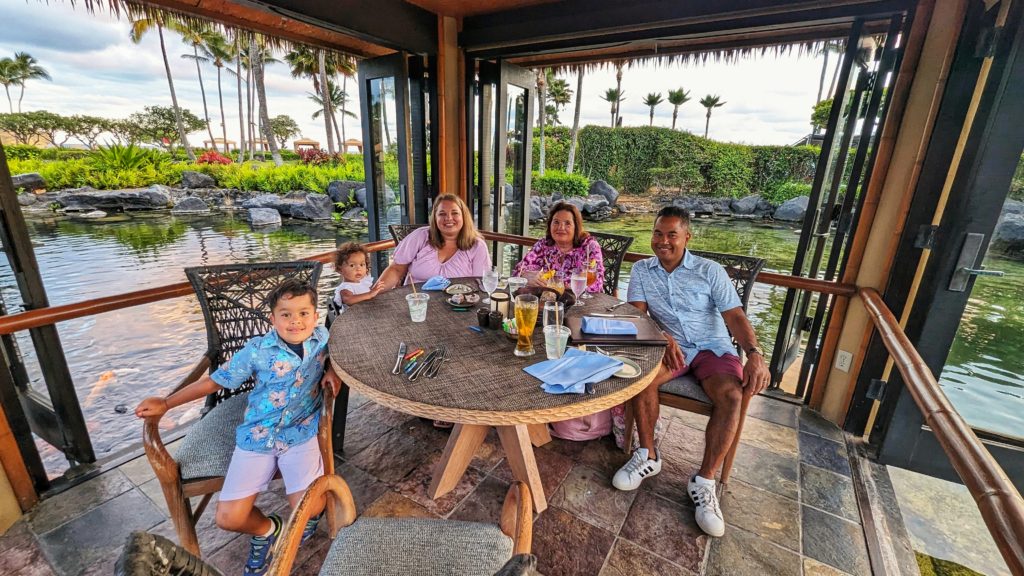 3. Delicious Dining Options
The Grand Hyatt Kauai offers a wide range of dining options to satisfy every palate. From fine dining experiences at restaurants like Tidepools, offering exquisite Hawaiian cuisine with stunning views, to more casual options like Seaview Terrace, which features live music and delicious grilled cheese sandwiches, there's something for everyone. The resort also has a Grand Club lounge, which provides complimentary breakfast, afternoon snacks, and evening hors d'oeuvres for guests with Globalist status or Club access, helping families save on dining expenses. With my Globalist status, our family of 5 had Breakfast everyday at the club, snacks in the afternoon, and often a light dinner there too! We saved so much, and it's so convenient with young tired kids!

4. Luxurious Accommodations
The Grand Hyatt Kauai offers a variety of spacious accommodations to suit families of all sizes. From standard rooms with two queen beds to suites with separate bedrooms and living areas, there's plenty of space for everyone to relax and unwind. The rooms are beautifully appointed, with amenities like private lanais, comfortable beds, and luxurious bathrooms. Plus, if you have Globalist status, you may even be eligible for room upgrades and special amenities during your stay. We were upgraded to a vaulted ceiling 2 Queen Room with Ocean Views on the highest floor. It was perfect for us!  We even had connecting rooms with my Mom!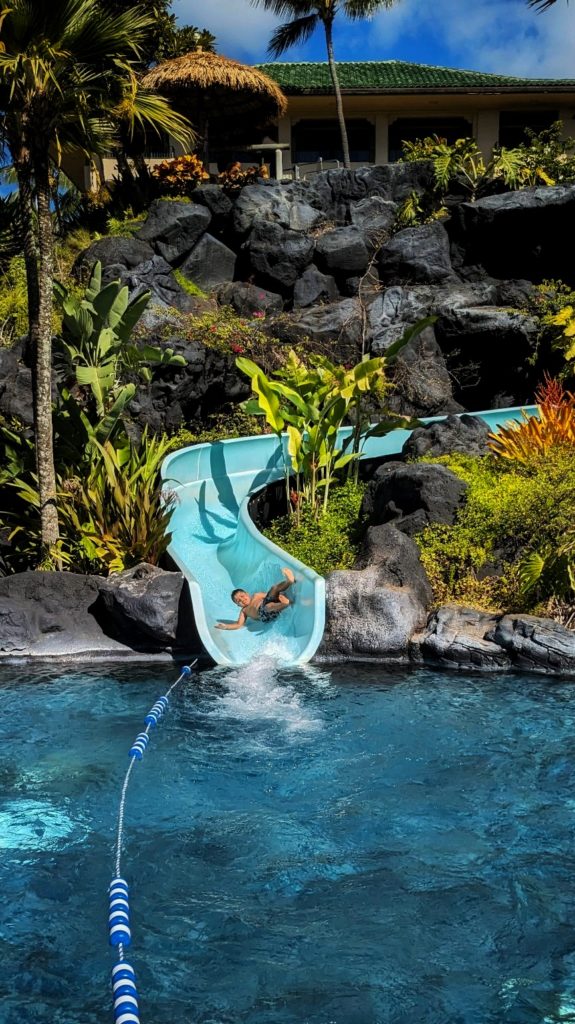 How to Book Your Stay at the Grand Hyatt Kauai with Credit Card Points
Now that you're convinced that the Grand Hyatt Kauai is the perfect destination for your family vacation, let's explore how you can book your stay using credit card points. By strategically utilizing credit card rewards, you can significantly reduce your out-of-pocket expenses and make your dream vacation more affordable. Here are the steps to follow:
1. Choose the Right Credit Card
To accumulate the necessary points for your stay at the Grand Hyatt Kauai, it's essential to choose the right credit card(s) that offer lucrative rewards and bonus offers. Some of the best credit cards for earning points that can be used towards hotel stays include:
Chase Sapphire Preferred
Chase Ink Business cards
These cards offer generous sign-up bonuses and earn points that can be transferred to various hotel loyalty programs, including Hyatt. By strategically utilizing these credit cards, you can quickly accumulate a substantial number of points to use towards your stay at the Grand Hyatt Kauai. My husband and I both have small businesses (which can as simple be selling on ebay or next door) and we earn most of our points from the amazing Chase Ink 90K Offers going on now to earn 90,000 points after spending $6k in 3 months.  This sounds like a lot, but we always wait till we have a big expense coming up, like needing new tires for the car, paying for insurance, etc.
2. Earn and Transfer Points
Once you've chosen the right credit card(s), it's time to start earning and accumulating points. Take advantage of the card's sign-up bonus by meeting the minimum spending requirements within the specified time period. Additionally, maximize your points earning potential by using the card for everyday expenses and strategically planning your spending.
After earning the points, you can transfer them to the World of Hyatt loyalty program. Chase Ultimate Rewards points, earned through cards like the Chase Sapphire Preferred and Chase Ink Business cards, can be transferred to Hyatt at a 1:1 ratio. This allows you to take advantage of the excellent value offered by the World of Hyatt program and book your stay at the Grand Hyatt Kauai with points.
3. Check Availability and Book
Once you have accumulated the necessary points, it's time to check the availability and book your stay at the Grand Hyatt Kauai. Visit the Hyatt website or use the Hyatt mobile app to search for available rooms on your desired dates. The website provides a user-friendly interface where you can input your travel details and view the available options.
When booking, remember to select the option to pay with points and ensure that your desired room type is eligible for points redemption. Once you have selected your room, follow the prompts to complete the booking process and finalize your reservation. Congratulations, you've successfully booked your stay at the Grand Hyatt Kauai with credit card points!
What to Expect During Your Stay
Now that you've successfully booked your family vacation at the Grand Hyatt Kauai, it's important to know what to expect during your stay. Here are some key points to keep in mind:
Check-In: Upon arrival, head to the check-in desk and provide your reservation details. The friendly staff will assist you with the check-in process and provide any necessary information regarding your stay.
Room Amenities: The Grand Hyatt Kauai offers spacious and well-appointed rooms with a wide range of amenities. Expect comfortable beds, private lanais, and luxurious bathrooms to enhance your stay.
Resort Facilities: Take full advantage of the resort's facilities, including the multi-level pool area, fitness center, and cultural activities. Don't forget to explore the beautiful beaches and nearby attractions during your stay.
Dining Options: Indulge in the delicious dining options available at the Grand Hyatt Kauai. From fine dining experiences to casual eateries, there's something to satisfy every craving.
Family-Friendly Activities: Engage in the resort's family-friendly activities, such as hula lessons, lei making, and cultural classes. These activities are a great way to create lasting memories with your loved ones.
Hyatt Globalist Benefits: If you have Hyatt Globalist status, enjoy the additional perks, such as complimentary breakfast, evening hors d'oeuvres, and room upgrades. These benefits can further enhance your stay at the Grand Hyatt Kauai.
Check-Out: When it's time to check out, simply return your room keys and settle any outstanding charges. The staff will ensure a smooth check-out process, and you can depart with wonderful memories of your family vacation at the Grand Hyatt Kauai.

Conclusion
A family vacation at the Grand Hyatt Kauai is a truly unforgettable experience. By utilizing credit card points and strategic planning, you can make this dream vacation a reality without breaking the bank. The resort's family-friendly amenities, beautiful beaches, luxurious accommodations, and excellent dining options make it the perfect destination for families seeking a memorable and relaxing getaway. Start earning credit card points today and embark on your family adventure to the Grand Hyatt Kauai!