Tips on going to the Texas Renaissance Festival with Toddlers
We recently went to the Texas Renaissance Festival with two toddlers under 4. We had one 2 year old and one 3 year old. We had a great time, and I wanted to share our tips!
Buy Tickets Online
We bought an adult 4 pack through the Texas Renaissance Festival. It was fast and easy. I waited late to make sure no one got sick or weather wasn't terrible. Kids are free on Sundays, but kids under 5 are free every day! My son's grandma ended up coming, and we bought a single adult ticket on Groupon for $22. You don't have to print out the tickets. You can show them on your phone, but there can be bad service at the Texas Renaissance Festival.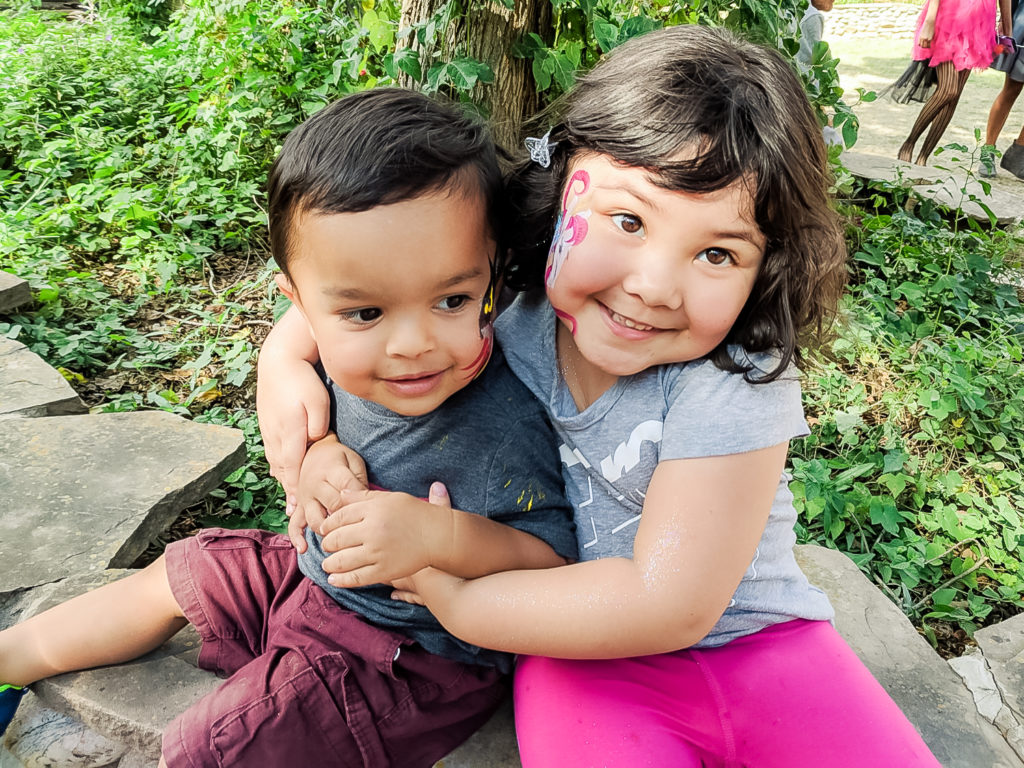 Bring Cash
This is a big one for us! We often times don't have a ton of cash on us. Most of the food areas and face painting only take cash!
Parking is Free
You can pay extra for Premium Parking, but they have a nice big parking lot among trees. My Mother-in-law even took a picture of the parking since it is pretty cool how they have it laid out. It might be worth it to pay if you are staying late till fireworks and want to get out faster. Make sure to remember your parking row number though!
Print out a Map before!
They sell programs and maps, but it looked like they were charging for them. We just wandered around, but I think we may have missed some fun rides. I recommend printing a map before, so you don't need to buy the programs they are selling.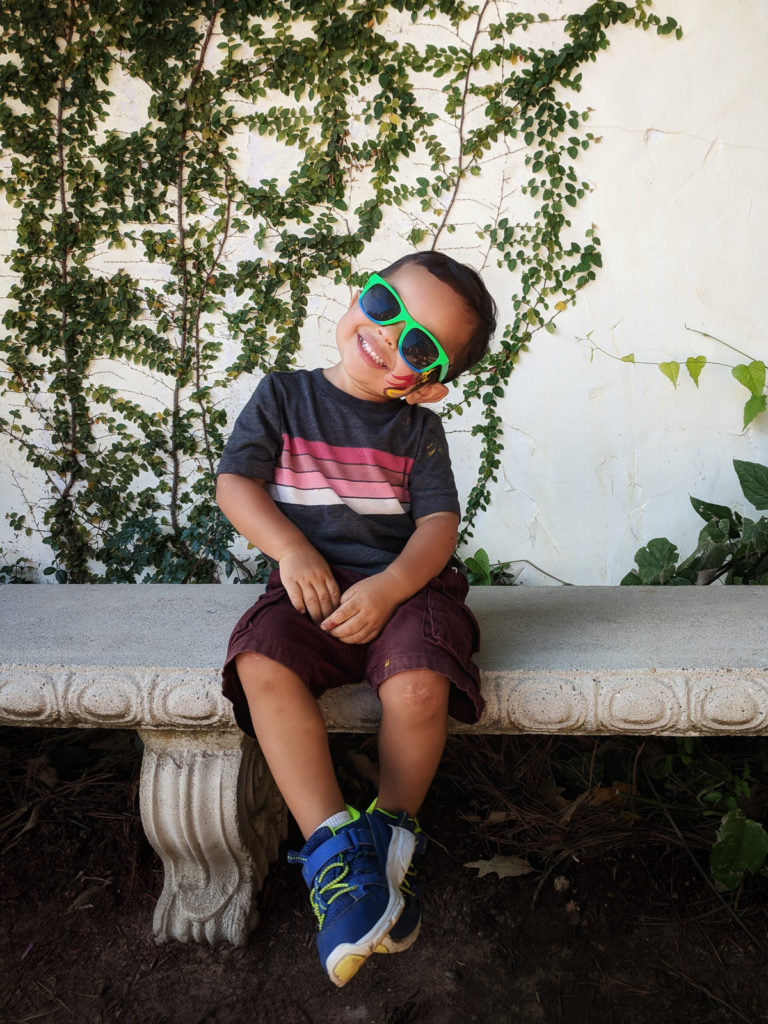 Dress Appropriately!
No, I am not talking about costumes. The Texas Renaissance Festival is 90 percent outdoors. Think about muddy ground if it has rained. We came on a beautiful day and I still would recommend sunglasses, hat, and sunscreen especially for the kids. Lots of people are in costume, so you are welcome to do that too. We didn't see any mosquitoes on the day we went, but it might be worth it to bring spray just in case!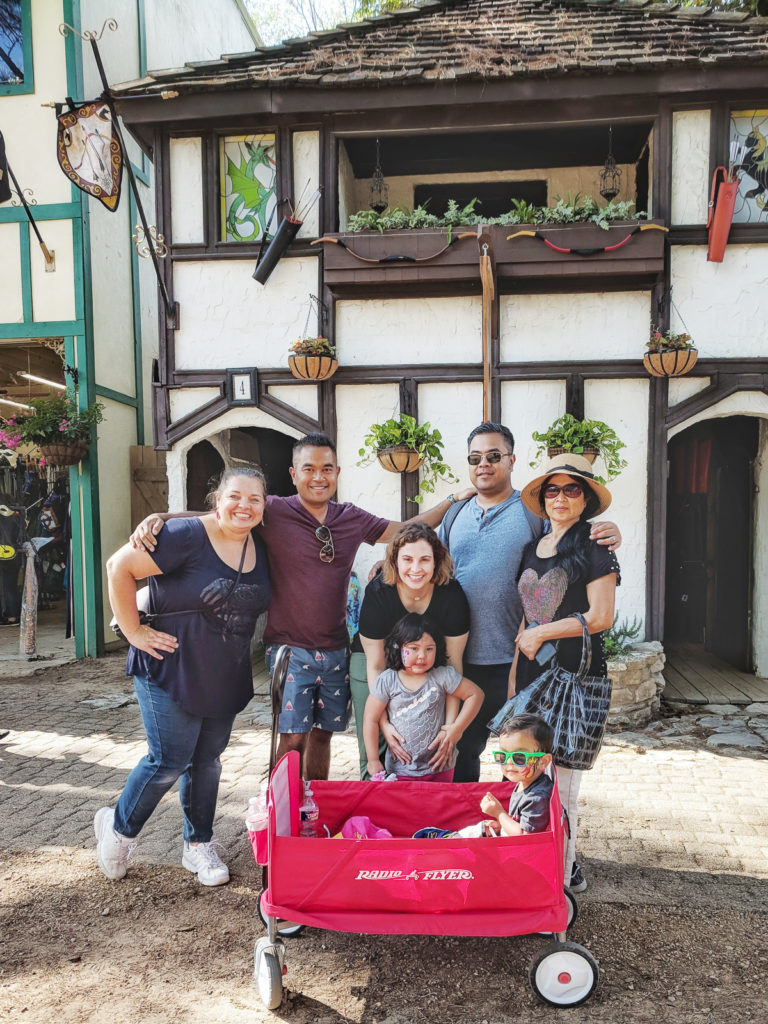 Bring a Wagon/Stroller
There's lots of walking, starting from the parking lot. We brought our collapsible red wagon! This works great for pulling waters, diaper bags, all the random stuff we acquire.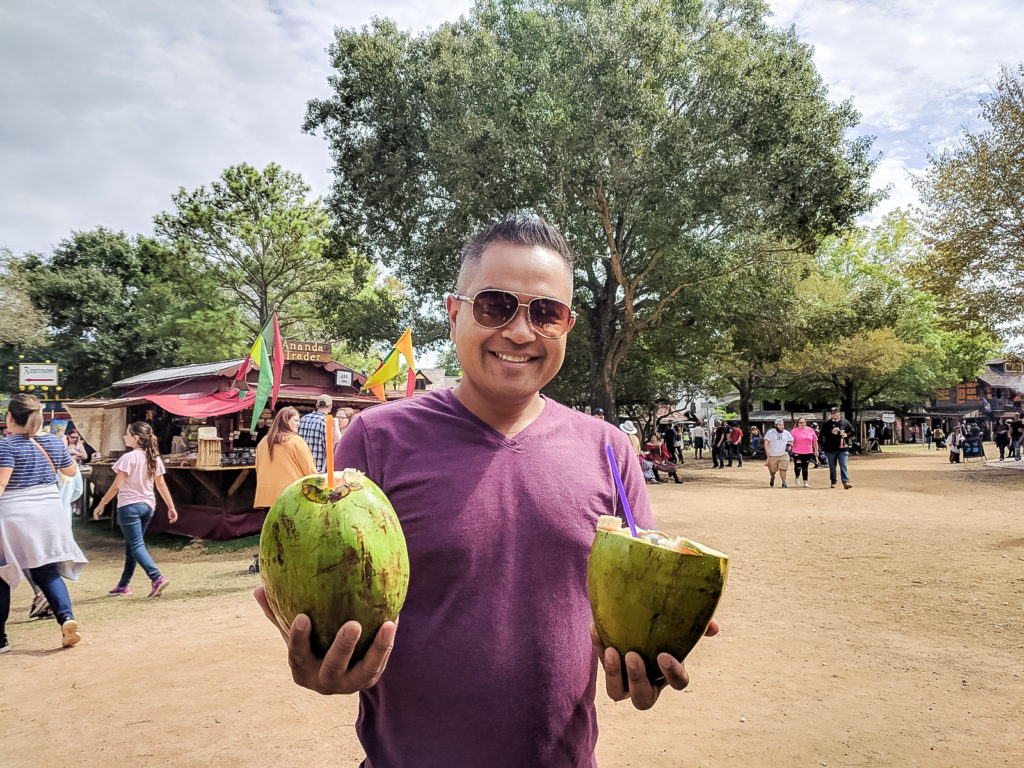 Bring UNOPENED Bottled Water
The rules are that you can bring one unopened bottle of water per person. We brought kids cups and unopened bottled waters. Pro Tip: Buy the big bottles of water. Also, when we went, no one checked our bags for snacks or drinks, so if you wanted to sneak in some kids snacks you could. The kids enjoyed eating Renaissance Festival snacks though.
Arrive Early
This is difficult to do, because it is a long drive. We started getting ready as soon as the kids woke up and ate some food. We still arrived after Noon, but this is when most people arrive. I wasn't uncomfortable by the crowds. There was plenty of space to walk, and we stayed almost 4 hours. The kids napped on the drive.
Check out the Entertainment
The Texas Renaissance Festival is all about performance. There are tons of people around in their roles, as well as lots of live music and performances. Our kids loved watching the live music, and enjoyed dancing around to it.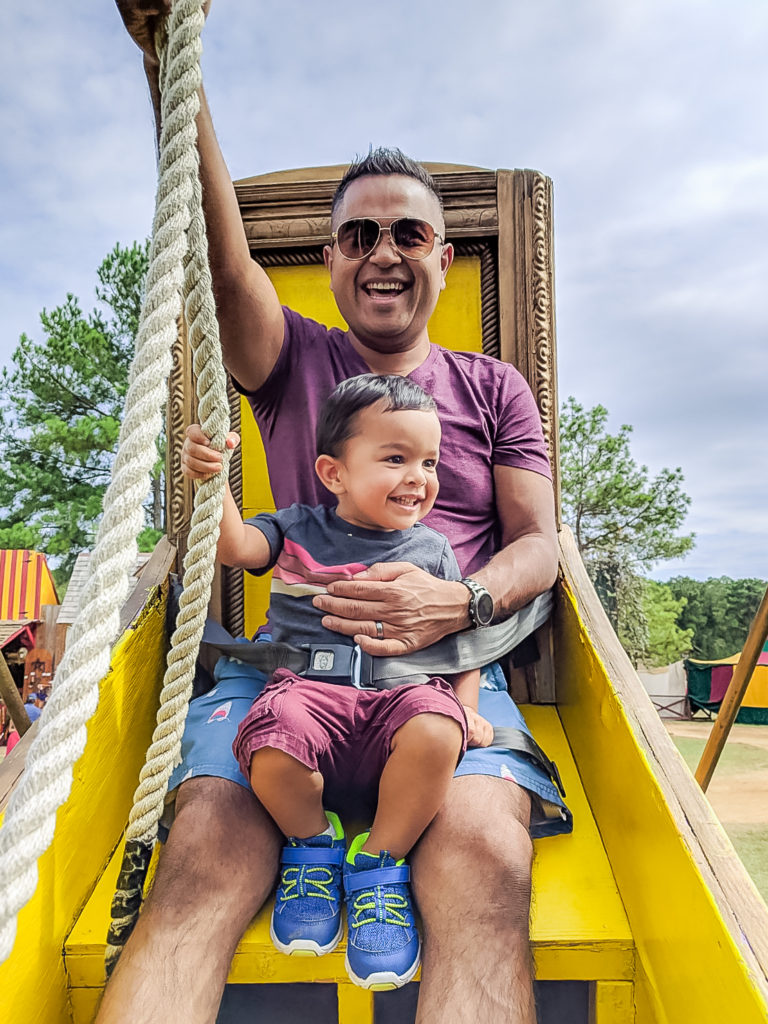 Rides!
I am all about the rides, so my son is too. We loved the swings and the pony rides. We didn't even make it to the maze or petting zoo! But, I would have loved that too!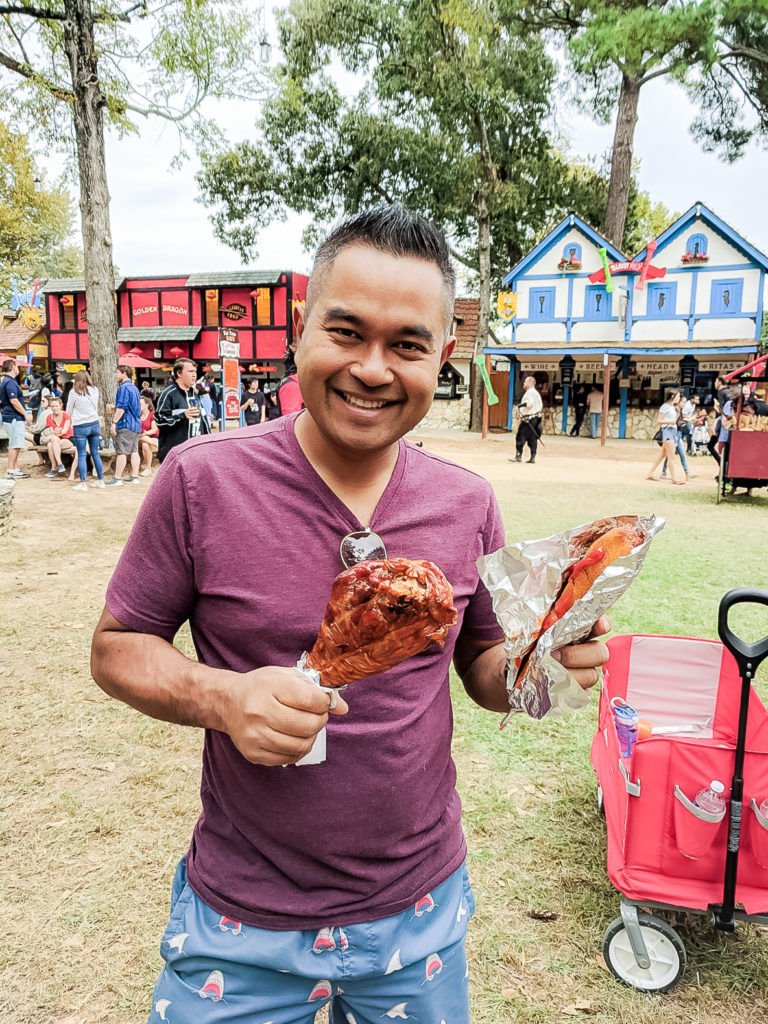 FOOD!
We are all about the food options in this family. My favorite items were the fresh squeezed lemonade and turkey leg. The kids loved the french fries. I wasn't overly impressed by the apple dumplings and corn dog. They have tons of food options from Greek to Asian food and all the typical staples too.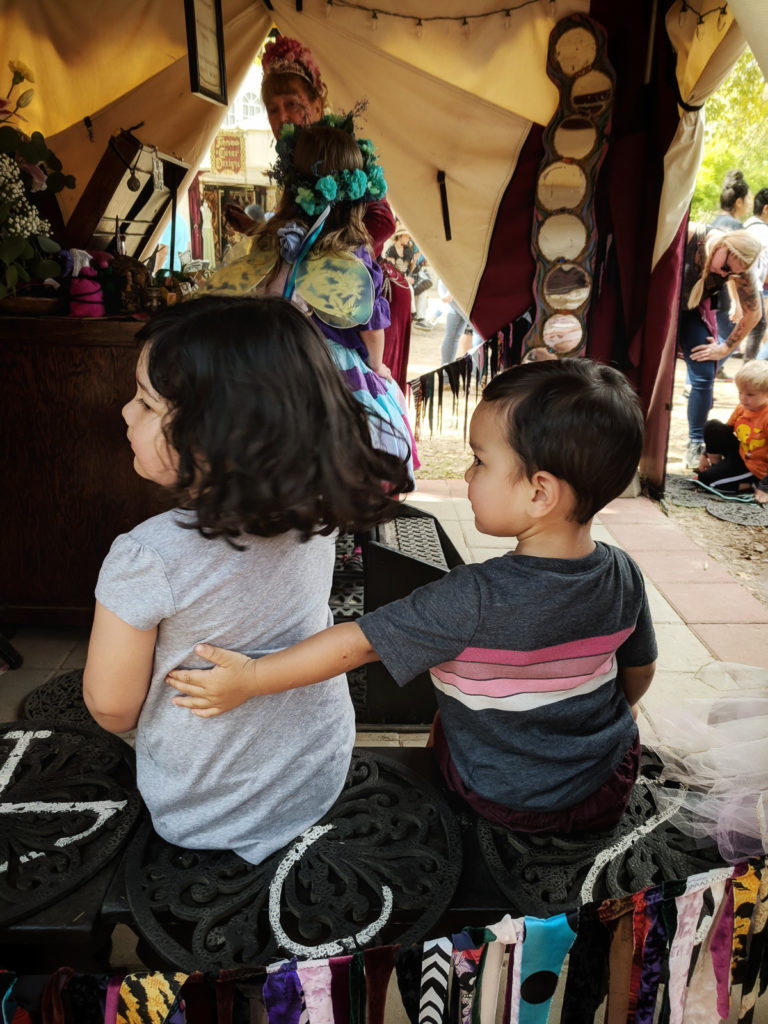 Trouble walking so much?
If you are traveling with grandparents or having trouble walking, consider hiring the horse drawn carriage to take you where you need to go. That could be an experience in itself!