We took my 2.5 Year Old Son to Disney World in 2020, and even though I have been to Disney World probably 20 times, I always enjoy doing something new.
Here's what we did New on this trip!
10 New things I tried on my 2020 Disney Vacation!
My Disney Experience Mobile Ordering!
This actually was combined with another first. We ate at Columbia Harbour House where we ordered from. We went there after waiting in a long line at Gaston's Tavern for a sandwich only to realize they were cold sandwiches. Only go to Gaston's for LeFou's Brew or the hot giant Cinnamon Roll! We enjoyed the mobile Order from Columbia Harbour House! I definitely get tired of so much fried food fast, but that hit the spot!
Ate at Be Our Guest Restaurant
I would definitely Dinner at Be Our Guest Restaurant. Everything was great, but it is sooo expensive. I am glad we did it, but I am not sure we will go back every time. Fine dining is better at home, but this is probably some of the best food you can find in Magic Kingdom and the Ballroom was beautiful. Now, my son loves the song Be Our Guest and loves talking about how the Beast kissed my hand.
Trader Sam's Bar at The Polynesian Resort
I have stayed at the Polynesian many times, and I had no idea this hidden gem was here. We only ordered a drink from the outside bar. This would be a great place for adults to have a getaway from the kids. Be prepared to wait outside having drinks if it is a weekend night. The wait was already an hour to get into the bar at 4PM on a Saturday. I had a spiked dole whip and it was a little too sweet for me.
DVC Rental Room AKA Staying in a Disney Vacation Club Room
We rented a DVC Room from DVC Rental Store and we saved about $1000 on our 5 night stay at the Polynesian! It is STILL a pricey room, but we saved a lot and were on the monorail! The Polynesian had so many amazing amenities for us this trip too! Here's my blog about DVC Rentals!
Ordering Amazon Prime Now Groceries to the Room
OMG. Bell Services brought up 10 bags of groceries and 3 packs of water to our room. I thought what did I do! But, we ate almost ALL of that food! The big hits were fresh fruit, especially banana, hummus, muffins, and water! Here's my blog on that experience!
Ordered Togo From Ohana's Bar
When you have a toddler and you are done for the day, sit near the Ohanas Bar and Order some noodles, dumplings, and Ohanas Bread Pudding! Yum!! It's way cheaper than Ohanas too!
Enjoyed the Resort Entertainment on the Polynesian Lawn
Feeding off of the last one, sometimes we came back to the room and didn't leave after a late nap. The Polynesian Resort had Dance parties and movies on the lawn which my son just loved! We did this before watching fireworks from the Polynesian Beach or lawn.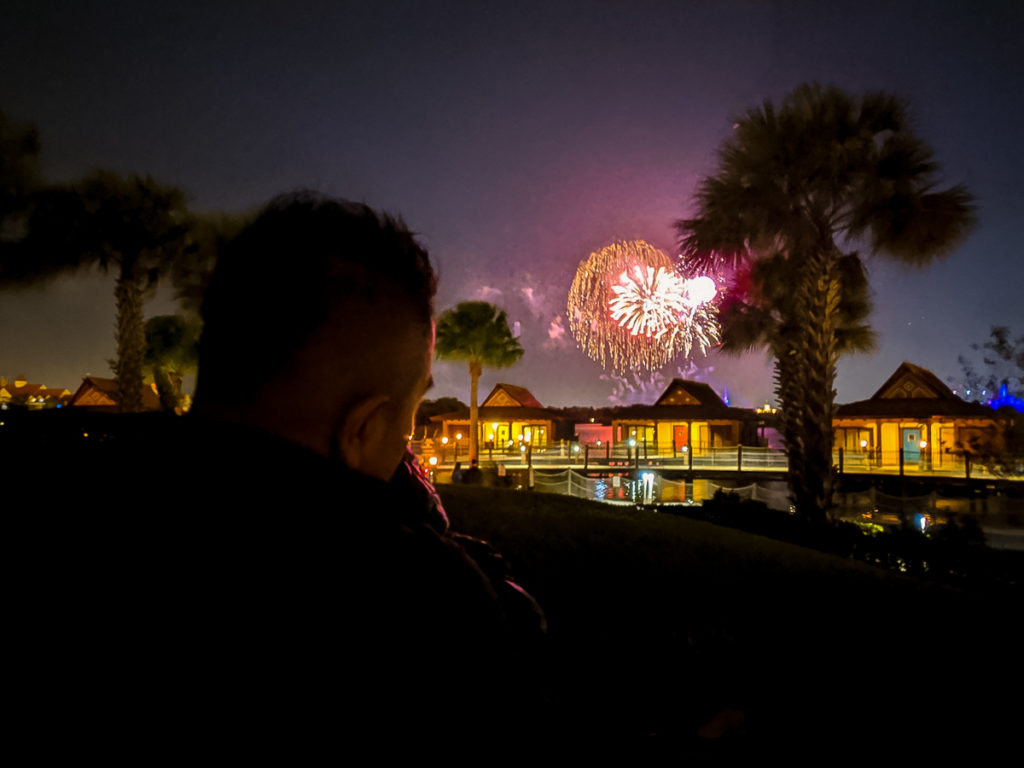 Swam in the Polynesian Pool and played on the waterplayground
I have swam in their pool before, but it has been a long time. The water playground was perfect for toddlers. My son was scared of the slide, but after he did it one time, he was hooked!
Walked through Star Wars & Toy Story Land
We didn't ride anything in either of these lands, but it was great to see the lands we've been hearing so much about! These two are definitely making Hollywood Studios a hot park to visit! We didn't do much in Hollywood Studios. Toy Story land felt crowded and hot, and we didn't have any fast passes for two hours, but the park is beautiful! I was surprised by some of the lines wrapping around outside of the rides.
Rode Seven Dwarfs Mine Train
My Mom and I finally got to ride seven dwarfs mine train at the magic kingdom. We had a fast pass to ride it, and it was so fun and well done. It reminded us of Splash Mountain and Big thunder mountain railroad! It was smooth and I think kids would like it too!
Fast Pass Hack Update!
I had posted before about how you can get two fast passes for the roller coasters and use rider swap so that the third person doesn't need a fastpass, but the more popular rides were cracking down on doing that! Next time I go, I will just get a fastpass for all the adults and not risk my husband not being able to ride!
Here's a video of our 2 Year old at Magic Kingdom! 
Here's a link to my Amazon Disney World with a Toddle Shopping List!