Top things to do with a Toddler on the Las Vegas Strip!
I just returned home from a trip to Las Vegas with my two year old son. My husband, son, and my Mom were in Las Vegas for a week for a work trip with my husband. My husband's company paid for him to attend the Black Hat and DefCon conferences and paid for his flight, hotel, and food, so my Mom and I thought we would tag along for a vacation. My Mom was able to get 4 room nights comped with her MLife points!
I was definitely intimidated about being in Las Vegas for so long with a 2 Year old, but everything turned out great! We were there in August, so it was super hot outside in the Vegas dessert, but we still had a blast!!
Top Activities to Do on the Las Vegas Strip with a Toddler!
This was my favorite activity of the trip and my son is still talking about the dolphins a week after we've returned home!
Pros: The dolphins are the real VIP at this exhibit. It was like being at Seaworld, but with less people and you can get much closer to the dolphins. There's also maybe a little less fanfare, but I loved it just as much! The dolphins are fun for any animal lover to watch.

Cons: It's outdoors! It's hot but they have lots of shade. The tigers were mostly sleeping, so that was similar to what we could see in a zoo.

Tip: They don't allow any straws or bottle caps so bring your own water, but be prepared to hold it with no cap or bring a reusable bottle.
Pros: It's Free! We saw flamingos, turtles, ducks, fish, swan, parrots, McCaw, cockatoo, and a few more whose names I forgot. This isn't as nice as the other paid exhibits we saw, but it was perfectly entertaining for a 2 year old.
Cons: It's not a huge space so it doesn't take long, and it's outdoors and hot.

Pros: Amazing exhibit with lots of big sea creatures I don't see often. The little ones can Touch the baby stingrays. I love the huge beautiful tanks and seeing these awesome creatures. Now, Leo knows what a shark really looks like, and it's not all "Baby Shark, do do do do do"

Cons: My son was so scared of the sharks and most of the creatures in the exhibit. I heard him say "I'm scared" probably 100 times in 30 minutes, and in the beautiful tunnel surrounded by all the sea creatures and sharks swimming he almost started crying.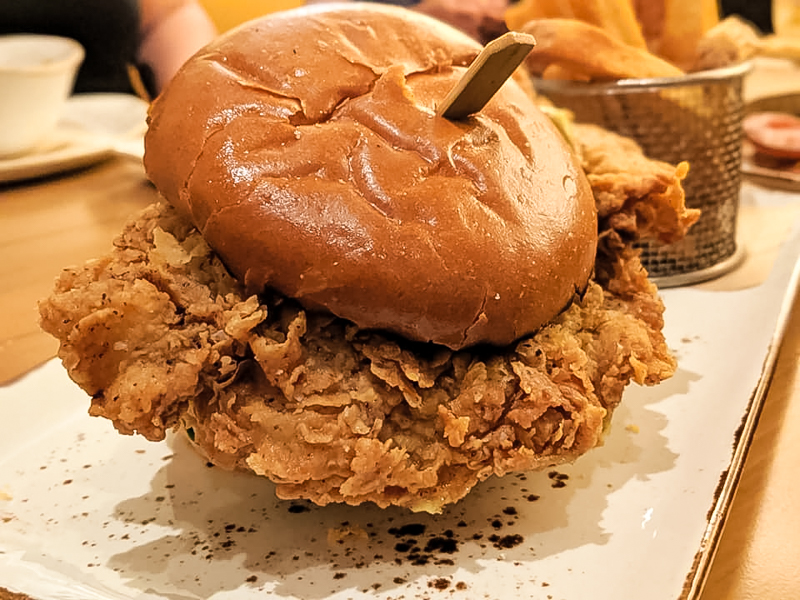 Protip: Arrive at 10am when they open, it gets crowded quickly.
Lunch after: Della's at Mandalay Bay

Pros: Amazing exhibit with really impressive displays. I have wanted to see this exhibit for a long time, and we finally went!

Cons: My toddler was again really scared of the old photos and dark rooms , so I was only able to see read about 1/3 of the text. I still enjoyed it, but it's definitely a balance.
Protip: This is a more expensive exhibit. Make sure to show your MLife card for a cheaper rate or buy an exhibit pass (More about that below).
5. Pool
My son loves the pool! When in doubt, I go to the pool. Pick a hotel with a good one! We stayed at MGM Grand which has a decent pool, but I wouldn't mind trying other hotels too!

Pro: My son loves any and all pools. MGM Grand and many of the Vegas pools are really nice. MGM Grand has a slow moving Lazy River. I thought we would have been there every day, but we only went once! Time went by fast!
Con: It's hot! Make sure to wear flip flops as much as possible even walking to the pool and maybe have some for your child if you don't want to carry them. The ground will burn your feet. There's not a lot of shade and there are a lot of people, and not as much of a kid environment.

This is still a favorite and free! You will want water and a snack after! We shared a Blizz fruit smoothie from the food court after.

My son loves trains so riding the monorail or tram was an activity in itself. The Monorail leaves close to the MGM Grand Food Court, and the Tram leaves from the Excalibur. The Tram is Free. We took that to Mandalay Bay and the Luxor. The Monorail goes a lot further in the other direction, all the way near Circus Circus. We took that one down to Flamingo, Bally's, etc. Maybe, plan your days so you do all your Monorail rides in a row, so you can buy the 2-day pass or 3-day pass and don't go a day without using it.

Pro: Some are free and helps get you somewhere. It's much cooler than walking even though some of the stops still take a walk to get to the front of the hotel. We took taxis when we needed to, but taking a toddler in a taxi without a car seat always makes me nervous (even though it is legal in Vegas). We try to limit it as much as possible.

Con: The monorails are not too thrilling for adults, but it is a nice break from walking.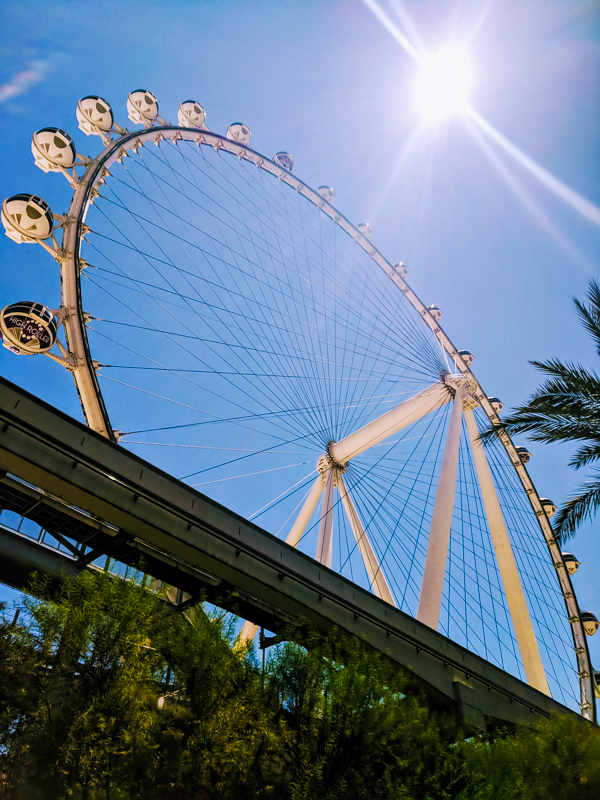 Pro: Great view of Las Vegas!
Con: My child was not scared for this one, but it does involve heights and lasts 30 minutes, so I knew there was a risk of having a scared child for 30 minutes. We went in the daytime, but I think the views would be amazing at night, but might also bring more drunk crowds too.
ProTip: We received a $10 off coupon from the monorail ticket window to use on the LINQ high roller, so try to grab one of those if you can!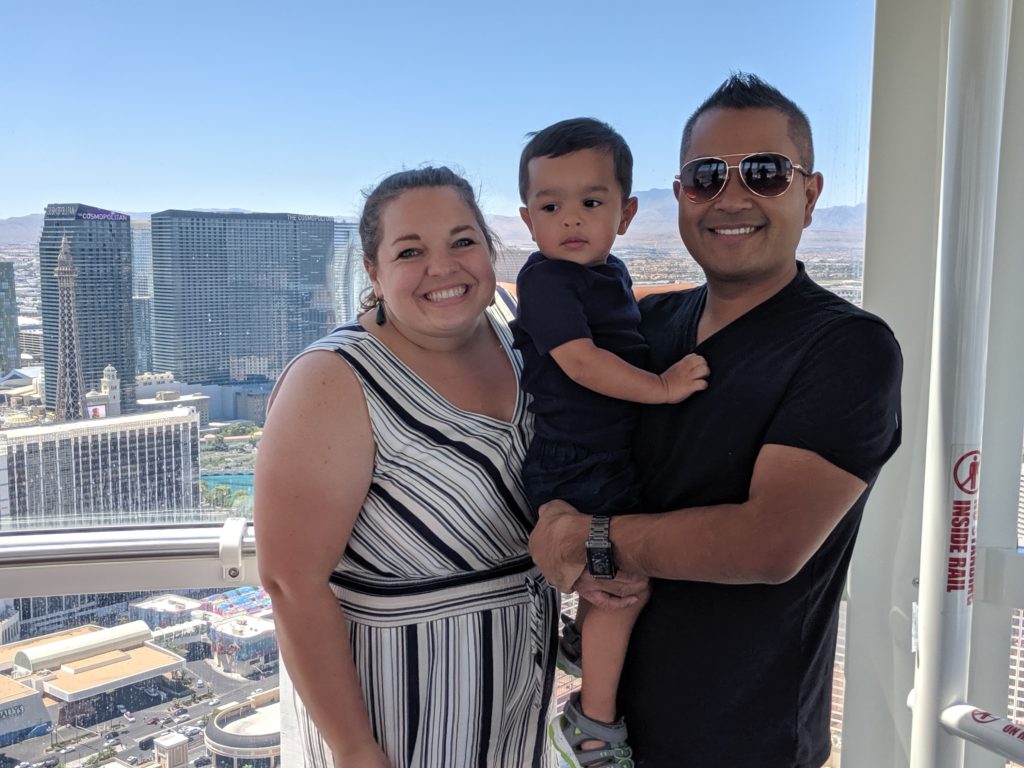 Attraction Money Saving Tip: I bought the 7 attraction Go Pass Las Vegas on Groupon. 7 Attractions was too many and I didn't use them all. With bigger kids you probably could use them all. I probably should have bought the 3 or 5 attraction option. See if one is best for you. They have different options for this type of thing, so research what works best for you!
All the paid attractions cost around $20 per adult. My son was always free, but Vegas is definitely not cheap!
Last Tip: Fit it things you want to do to! The trip might not always be what you expect, but eat food you like, do attractions you like, because you deserve to have fun too. We were lucky enough to have my Mom watch our son two of the nights, and we went to see Boyz II Men and another night went to Sara's restaurant and ate an amazing dinner.